Roulette is one of the longest running casino games, with a history stretching back to 18th century France. In all that time, no one has devised a fool-proof method of winning this game of chance. However, gamblers can employ betting strategies that should help maximize potential wins and mitigate losses. While it is a game of chance, many aspects of roulette revolve around mathematics, statistics and odds that create the house edge, which is the built-in casino advantage. In this roulette guide, our casino experts at CasinoSource.ie cover everything you need to know about roulette odds and how to use them. Read this page to learn exactly how roulette statistics work and what you should pay attention to while placing bets at the roulette table.
The Difference between European and American Roulette
Before we get into specifics, let's look at the two most popular roulette games, and how they differ from each other. When it was first introduced in Paris, the roulette wheel sported 38 numbered sections, including two slots for the bank marked by a zero and double zero. However, in the mid-19th century another wheel was devised which removed the double zero. This improved a player's odds of winning, from 38/1 to 37/1.
Fast forward to the present day, and the wheel featuring the single zero is commonly known as European Roulette, while American Roulette reintroduced the double zero to increase the house edge. However, the payouts on both games for winning bets are similar, causing the European and American roulette games to have a house edge of 2.7% and 5.26%, respectively. This means that the casino will keep a much more significant portion of wagers when offering the American version of the game. Therefore, roulette statistics clearly dictate that savvy players should focus on playing European Roulette whenever available. So before you have placed a bet, the best strategy is to choose European roulette or one of its variants.
Roulette Table Odds and Probability
The difference between the American and European Roulette is quite apparent, but we will also demonstrate it by showing you the impact it makes on each roulette bet. Before looking at odds, it is essential to understand the difference between the two main types of bets available at a roulette game. Inside bets are bets placed on specific numbers, while outside bets are placed on occurrences (e.g. red-black, high-low, odd-even, etc.). The table below contains the roulette payout for each inside and outside bet, along with the odds for each option to occur.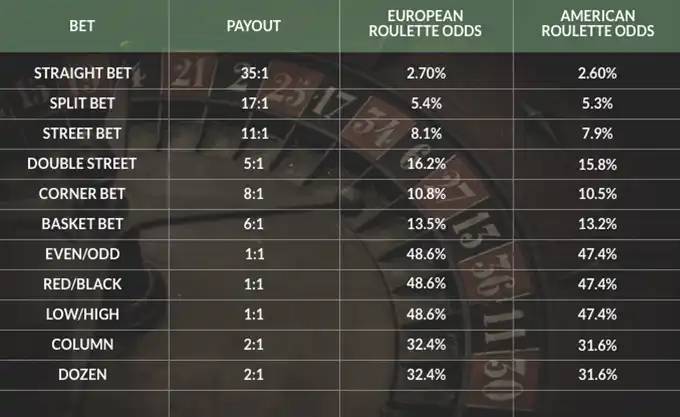 Outside Bet Odds
Outside bets are the bets made on the outer skirts of the roulette betting table. With higher outcome probabilities than individual-number bets, outside bets also offer a lower payout. Outside bets include even/odd, red/black, and low/high, all of which are even money bets. Meaning, you can expect to double your stake if you win while having a slightly under 50% chance of hitting. Column, row, and dozen bets offer a 2:1 payout and land just under 1 in 3 times. These bets are slightly more volatile than the even-money bets, and they are placed by players looking to take more risk for a slightly higher roulette payout.
Inside Bet Odds
Named after their interior position on the roulette table, inside bets are wagers made on individual numbers. Roulette statistics differ for the various inside bets you can make. As you can see in the roulette odds guide table above, these include straight bets, split bets, corner bets, basket bets, and more. These bets are all made by placing chips on the actual numbers or the lines between the numbers. The roulette odds of each inside bet probability are relatively low. For example, a winning straight-number bet on European Roulette is an event that occurs only 2.7% of the time. But corresponding to the higher risk, a handsome payout of 35:1 is awarded in case of a win. Many roulette players bet on multiple straight numbers at once or use split or corner bets to reduce risk.