Father Ted is one of the country's best-loved sitcoms, but unless you're a true anorak, you may not know the original reason why Ted Crilly was banished to Craggy Island. He was sent as punishment from Bishop Brennan for stealing a child's Lourdes money to go to Las Vegas! This story is referred to at several points in the series, with Ted always maintaining his innocence with the line: "that money was just resting in my account". Ted still dreams of being sent to a parish in America and living a lifestyle of fame and glamour.
Indeed, in the episode 'The Passion of St Tibulus', Bishop Brennan tells Ted that he thinks it would be better for the priests to move out of his jurisdiction and asks him what part of America he'd like to go to. Ted replies with Las Vegas, before the bishop explains that he meant South America – much to Ted's disappointment. But have you ever wondered what would happen if Ted's dream came true and he did get to go back to Vegas? And what if the other main characters went along with him?
Ted In His Element
A priest is probably the last person you'd expect to see at a casino in Las Vegas, but Father Ted is not your average clergyman. Given that Ted often talks and dreams of a life of fame and fortune, he would certainly be very excited by a trip to Vegas. We'd expect to see Father Crilly trying his hand at the multitude of casinos and games on offer in Vegas.
There are suggestions in the series that Ted likes a flutter and has a tendency to give into temptation, which could lead to him spending (and probably losing) lots of money. Ted is also extremely competitive and doesn't like losing, as seen through his rivalry with Dick Byrne. From the Eurosong 1996 to the over-75s football match, there are numerous examples of Ted's competitive nature. Hopefully he can keep his anger in check when he's on the strip.
Too Much For Dougal
The bright lights and hustle and bustle of Las Vegas is a world away from the remote and dull surroundings of Craggy Island, and would surely prove overwhelming for simple Father Dougal McGuire. Given that Dougal finds the board game Buckaroo exciting and challenging enough, he'd have trouble understanding the rules of casino games like poker or playing on a slot machine. He's also very uncomfortable around women – and there are plenty of them in Vegas.
It's not hard to imagine Dougal getting himself into comical situations, which is what happens in most episodes of the programme. Perhaps he'd unwittingly end up playing a high-stakes game of poker or winning a huge amount of money on the roulette table. After all, gambling is largely about luck rather than intelligence or skill, which is good news for Dougal!
Father Jack Let Loose
Two words come to mind when thinking about the prospect of Father Jack in Las Vegas – drink and girls! Jack is a violent, aggressive and alcoholic character, so taking him on a trip to a city like Las Vegas probably wouldn't be the best idea. The other characters struggle to keep him under control within the constraints of the Parochial House, so there'd likely be carnage if he were let loose on the strip.
Saying that, he might not even be let into any of the casinos given his aggressive manner and untidy appearance. Jack turns angry whenever he's denied alcohol at home, so we'd probably see him getting into some scraps with casino staff in Vegas. On the rare occasions that he's let out of the house, Jack has a habit of disappearing. With Ted and Dougal likely to be distracted by everything that's on offer in Vegas, they could well end up losing the old man in the depths of Sin City.
Not Mrs. Doyle's Cup of Tea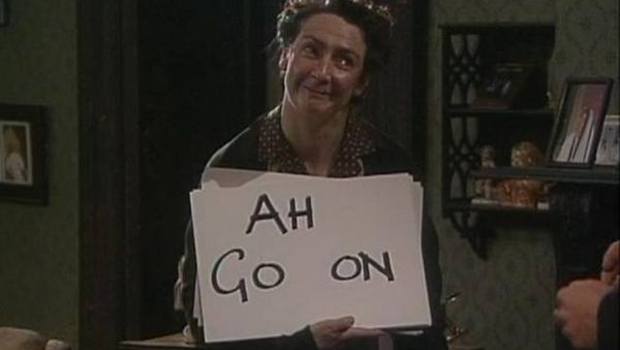 Like Father Dougal, Mrs. Doyle is a fairly naive and sheltered character and would probably find a trip to Las Vegas too much to handle. Her life on Craggy Island largely involves making tea and preparing food for the priests, so she'd find it strange ordering room service and partaking of the casino breakfast buffets. We also know from the programme that she disapproves of things like sex and swearing. The sordid world of Vegas would therefore be way out of the housekeeper's comfort zone.
However, Mrs. Doyle is also quite a repressed character and her excitement does explode sometimes, so perhaps she'd let herself go in Vegas and go crazy in the casino. Ultimately, though, we think all the characters would miss their simple life on Craggy Island and realise that's where they belong.